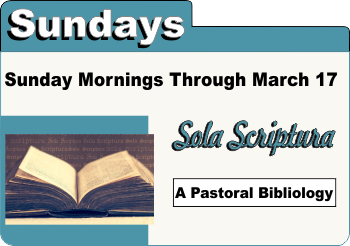 Schedule:
- Bible Study: 9:30 a.m.
- Breakfast: 10:30 a.m.
- Morning Worship: 11:00 a.m.
Our current Sunday Morning preaching series is "The Book of Jude."
The book of Jude is a warning to the latter early church of heretical teachers who had infiltrated their ranks. Distinct from numerous New Testament warnings of false teachers, Jude focuses most of his attention not on the subject matter of their teachings, but of the content of their character.
We will break shortly for Christmas, but will otherwise be in this series until Mid-January, 2024.
Sunday Morning Bible Study
Sunday mornings begin with Bible Study for all ages. We have classes for children, youth, and several adult choices covering a variety of subjects at any given time.
Breakfast
At 10:30, Morning Bible Study concludes and we all assemble in the gym for a home-cooked breakfast. This is the real deal; a serious breakfast cooked each Sunday morning by a seriously committed Fellowship Team. It is a great opportunity to meet, greet, and get to know one another. It's truly a special time not to be missed.
Breakfast ends at 10:50 as we make our way to the Sanctuary for the Morning Worship Service.